On the 14th of August 2022, Blaze partnered with young Northern poet and Blaze Young Facilitator Helena Ascough and six young creatives to launch the 'Outspoken' project at the Lowther Pavilion. Spanning four days of workshops, the young creatives discovered the power of their voices through Spoken Word. The first day began with getting to know one another and what spoken word was, with the majority of participants having never tried spoken word before. They then took part in a range of games to build confidence and get comfortable with each other, before watching spoken word artists Harry Baker and Hollie McNish, to gain inspiration and have a go at writing their own pieces.
The second day of the project saw the young creatives put into two groups. Together they chose a theme- with ideas ranging from the power of women to the realities of relationships. Alongside this, the groups used the skills they had learned from Helena about performance to discuss how they would like to perform their pieces. After a day of writing and planning, some individuals from the project felt inspired to write their own pieces at home, having developed an interest in spoken word from the project.
"It has made me feel happy, excited – a lot of emotions" – Outspoken Participant
On Outspoken's penultimate day, the young creatives continued to work on their performance skills and received valuable one-to-one mentoring from Helena. In addition to learning Spoken Word, those taking part were also able to gain valuable experience in event planning in preparation for the event where they would be performing their pieces. With Blaze Director walking them through what needed to be considered for this kind of event, they decided what they wanted the layout of the room to be, and the script for how the event would go, putting the young creatives in control and making the project their own. By chance, we ran into Antony, who had been a Blaze young producer around ten years ago, and was now working in marketing for the Lowther Pavillion, who talked to us about his experience with Blaze and how he had gone into a creative career.
The final day of the project saw the young creatives meet with Dan, a technician for the Lowther Pavilion. This introduced them to a creative career they had not necessarily heard about before, having the opportunity to ask questions about how it works with lighting and stage management. Following final rehearsals, the time came for the project to close with an event for the young creatives to perform their pieces to an audience of family and friends. They performed both their group pieces which they had been preparing at the workshops, in addition to individual performances which the project had inspired them to create, before ending with a Q&A with Helena Ascough. By the end of the project, the majority of young people involved expressed that Outspoken had empowered them to have grown their confidence, as well as multiple participants to explore poetry.
"What a brilliant project! We appreciate the opportunity. Friendly and confidence building –
thank you." – Outspoken Audience Member 
You can read the incredible pieces which the young creatives produced below, ranging from feminism in 'Power Blocking', relationships through the metaphor of an old trainer in 'Worn Out', and so much more.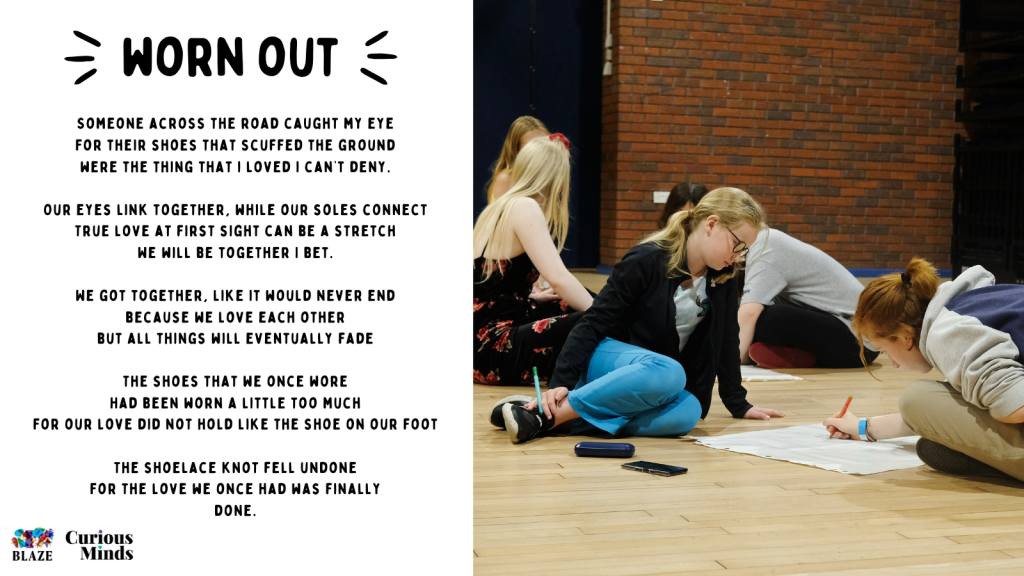 This project is funded by Curious Minds.