Listen In Training
We know that the best youth-led projects start with listening. Learning to listen effectively is an essential skill for organisations who want to be more dynamic, relevant and inclusive. Which is where our training comes in…
Our Listen In training programme is aimed at arts and cultural organisations that want to improve how they work with young people and listen more effectively. Training is delivered by Blaze Young Facilitators who will share their personal experiences of accessing and working with arts and cultural organisations.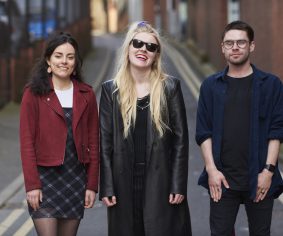 Youth voice should be embedded throughout organisations, which is why we've designed our training to be delivered 'in house'. Staff and volunteers from across your organisation will work with our Young Facilitators to explore the benefits of working with young people and plan positive action together.
At the end of our training you will: 
Understand the benefits of listening to young people
Have had an honest discussion about perceptions of young people
Better understand what young people experience during adolescence 
Know how to listen more effectively on a personal level, and put your learning into practice
Have learnt about participation theories and how they apply to your organisation's work
Explored examples of best practice
Begun to reflect on your learning and have committed to personal actions
Have a collection of resources and case studies to take away
"Blaze's Listen In training was incredibly insightful, providing useful frameworks of participation, championed by the trainer who has first-hand experience of the power of what can happen when youth voice is at the heart of an organisation." – Morgan, Gallery Education Coordinator.

"Really important training for modernising your organisation and placing the next generation at the forefront of everything you do." – Elliott, Museum and Gallery Operations Coordinator.

"A great chance to reflect on my own practice and take away practical ideas for engaging with younger audiences." – Jane, Heritage Activity Coordinator.  
Practical Information
Timing
The training is 3 hours long with two short breaks. 
Location 
The training can be delivered in your venue (recommended) or online via Zoom. When delivering the training in-person we require access to a laptop, a large screen and WiFi. 
Content
The training is interactive and includes group activities and discussions. Participants in online training will be expected to have their cameras on and be ready to participate.
Costs
In-person training at your venue costs £350 (including VAT) plus travel expenses for the facilitators. Online costs £300 (including VAT).
If your organisation would struggle to cover these costs alone, why not link up with one or more other organisations and split the costs? 
Get In Touch
If you're interested in booking our Listen In training, please fill in the form below. Alternatively you can contact helen@blazearts.co.uk.
Terms and Conditions
Once your booking has been confirmed in writing, any cancellations or changes of dates will incur a charge of £150.
If we cancel the training for any reason you will be informed by email at the earliest possible opportunity and a refund will be offered. If a suitable alternative date cannot be found for you we will still provide you with access to the online material.
Payment must be made via invoice.
Please be aware that we will only use your contact details to deliver the course and give you access to the online modules.